Sunday, March 19, 2012 we lost a legend in the cigar industry. Rolando Reyes Sr passed away Sunday in Miami, FL of natural causes at the age of 89. Rolando had been in the cigar industry for 80 years. Yes, do the math, he has been involved in cigars since he was 9 years old! Rolando was very involved in his cigars. He worked mainly at night. "I start at 10 at night, and I'm done at 4 or 5 o'clock in the morning," he said in the Cigar Aficionado interview. "I am quality control. I like to work at night, because there's no one to bother me, and I can concentrate better in detail on what's wrong with a cigar…You have to concentrate. I like to inspect every cigar."
To pay my repspects to Mr Rolano Reyes Sr. I am going to have a look at the Puros Indios Siembre de Oro Short Maduro.
Size: 4×48
Wrapper: Habano Seed Maduro
Binder:?
Filler: Honduran & Nicaraguan
Country: Honduras
Purchased from: Cigars International for $15 for a bundle of 20.
First Thoughts: This Puros Indios is a firm cigar but its not a tough firmness. A medium brown wrapper with a few viens wraps the cigar. Its not the prettiest of wrappers but its no ugly dog either. A guillotine cut produces a milshake thick type of draw. Its not too tight, but no where near being a loose draw. The draw is pretty dead on to my likings.
1st Half: The Siembra de Oro lights up quickly and produces a good amount of smoke right off the bat. The first notes I get off it is a light spice with wood notes. Then as I proceed a bit of nuttiness comes out some on the pallet. The nut flavor has a slight twang to it as it proceeds into the cigar more. Here and there a bit of pepper shows its way through the nutty-woody flavors. About an inch into the cigar, I get a slight blast of cocoa and a lingering spice.
Working towards the halfway point, the spice subsides and the smoke mellows off a good bit and is quite more pleasant than the first few draws. The flavor goes into a earthy tone that mellows nicely. Its not a mild flavor, but its nice and mellow.
Second Half: The last half starts off earthy and woody. The earth is a undertone to the woodiness thats still mellow as before. The retrohale reminds me of coffee with a kick of spice to boot. With about an inch left the flavors started to foul up on me. I slowed down and the "funk" eased. Right towards the end, alot of strong black pepper notes show off. The spice subsides totally and is a nice finish to this short smoke.
Overall a nice medium smoke with nice woody, earthy, & nutty flavors. Starts off a little loud, but mellows off nicely into a good smoke that I really like. For the low cost, they are deffinatley one of my go-to smokes that when I want a mellow smoke and when Im short on time.
Mr Rolando Reyes Sr. will be missed throughout the cigar community. Im sure at one point in a cigar enjoyer's life, they have had one of his cigars, or a cigar he had some input on. I started out smoking alot of Puros Indios and continue to do so this day.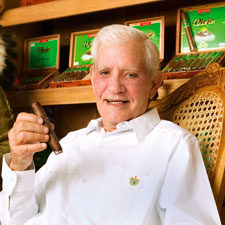 Mr Rolando Reyes Sr
1924-2012
If you enjoyed this post, please consider to leave a comment or subscribe to the feed and get future articles delivered to your feed reader.