REINADO® Recognized in Multiple Lists of Best 2012 Cigars
REINADO Grand Empire Reserve receives critical acclaim and acknowledged as one of the best cigars in 2012 by three cigar industry experts.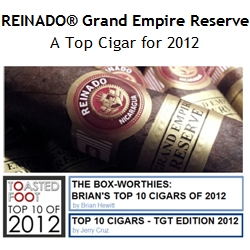 Oradell, NJ, January 08, 2013 –(
PR.com
)– Leveraging REINADO's unique blend and signature fermentation process, REINADO's recently introduced Grand Empire Reserve, a "soft box pressed" Nicaraguan puro Robusto named "Elegidos," has been included in three lists of "Top 10 Cigars of 2012," including:
– Jerry Cruz's Top 10 Cigars – TGT Edition 2012
– William Soled's Top 10 of 2012 Cigars – Toasted Foot
– The Box-Worthies: Brian Hewitt's Top 10 Cigars of 2012
"We are delighted that the REINADO Grand Empire Reserve has been enjoyed by so many industry professionals and cigar smokers alike in just six months," said Antonio Lam, owner of Cubanero Enterprises.
"Our focus has been to develop superior depth, richer undertones, and enhanced overall complexity for the palates of cigar smokers. Based upon the year-end rankings, REINADO has delivered and has been recognized alongside some of the most distinguished cigar brands in the world," said Lam.
In 2013, REINADO will release the Grand Empire Reserve blend in additional targeted sizes.
To purchase the REINADO Grand Empire Reserve, please visit your local tobacconist. If they do not yet carry the Grand Empire Reserve, a 5-Pack or Box of 20 can be purchased directly from REINADO by visiting http://www.reinadocigars.com/buy.aspx
Contact Information
To contact REINADO or learn more about their cigars, please visit: http://www.reinadocigars.com/
Contact: Antonio Lam
Email: antonio.lam@reinadocigars.com
Telephone: 201.893.1953
Facebook: http://www.facebook.com/reinadocigars
Twitter: http://www.twitter.com/reinadocigars
Instagram: http://www.instagram.com/reinado_cigars
About REINADO
REINADO Cigars creates uniquely fermented, handmade premium boutique cigars that receive exceptional ratings from the cigar industry. REINADO's commitment to delivering quality products in a consistent manner are of the highest priority as the brand continues to expand its portfolio of premium cigars.
If you enjoyed this post, please consider to leave a comment or subscribe to the feed and get future articles delivered to your feed reader.